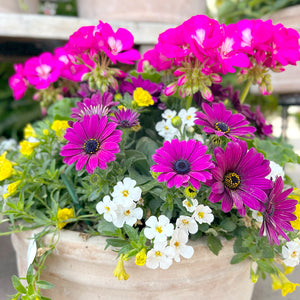 Our bestselling Mother's Day flowers & designs are available for online ordering! Local delivery available (minimum $50, delivery fees apply).
Visit us in Sea Girt to view our full selection of indoor & outdoor plants, container designs, & home decor. Click here for directions!
IMPORTANT: This gift card is valid IN-STORE at Barlow's in Sea Girt, NJ only. It will not work for online orders.
The perfect gift, Barlow's gift cards are good for use in-store at our Sea Girt location and are the convenient size of a credit card. Choose from prices ranging between $25 to $500. If you'd like a larger amount, just email or call us at (732) 449-9189.
In-Store Gift Cards arrive via regular mail in an envelope.
To add a gift message with your order, include your message in the Order Notes in your cart BEFORE checking out!
Terrarium Supplies
Visit our greenhouse to view our ready-made terrariums! We also carry a variety of terrarium plants, succulents, and supplies to DIY your own.
Breakfast In Bed
We were so excited to find another Barlow family name in business! Cook up a delicious breakfast for mom with this delicious 3-in-1 (pancake, biscuit, & waffle) mix from Barlow's Foods.
Birdhouses
Beautifully wrapped and ready for gifting! Heartwood birdhouses are handcrafted in the USA, the perfect gift for birdwatchers.
Birding Supplies
Find bird feeders, hummingbird feeders, nectar, and select birding supplies inside our greenhouse!
Pollinator Habitats
Give your beneficial insects a home! These cute & functional habitats are perfect for bees and butterflies.
Visit us in Sea Girt to see more of what Barlow's has to offer! Our 10,000 square foot retail greenhouse is stocked with houseplants & indoor flowers.
Our nursery is loaded up with annuals, perennials, trees, shrubs, & tropicals - come take mom out for a trip and soak up all the gorgeous flowering color!
Visit Us
Stroll our retail greenhouse and outdoor nursery! Our garden center is located at:
1014 Sea Girt Avenue
Sea Girt, NJ 08750
Open Daily: 9AM - 6PM
Sundays: 9AM - 5PM