Fall Gardening Tip: It's Holly-Tone Time
Harvest season is upon us which means it's almost time to put your garden to bed for the year! While your garden is starting to wind down, there's one major task you can do to set yourself up for another successful season next year.
Feeding your acid-loving ornamental trees & shrubs during mid-to-late fall gives them the nutrients they need to prepare for winter dormancy. (Note: for a list of acid-loving plants - see the chart below!) Think of it as helping your plants bulk up before winter - the extra food helps strengthen the root system which in turn provides better hardiness and disease resistance come springtime. Also an added benefit - happy plants = more abundant spring blooms!
At Barlow's, we recommend Espoma's Holly-tone for all the acid-lovers in your garden. It's organic and effective on a wide range of plants, so you don't need an arsenal of different fertilizers taking up space in your shed. If you have any of the following flowers, trees, or shrubs, Holly-tone should be applied every fall & spring:
| | | |
| --- | --- | --- |
| Amaryllis | Heath | Mountain Ash |
| Andromeda | Heather | Mountain Laurel |
| Aster | Hemlock | Oak |
| Azalea | Holly | Pachysandra |
| Bayberry | Huckleberry | Phlox |
| Bleeding Heart | Hydrangea | Pieris |
| Blueberry | Inkberry | Pine |
| Camellia | Juniper | Raspberry |
| Dogwood | Leucothoe | Rhododendron |
| Evergreens | Lily-of-the-Valley | Spruce |
| Ferns | Lupine | Strawberries |
| Fir | Magnolia | Wood-sorrel |
| Gardenia | Marigold | |

Note: Arborvitae & Boxwood are evergreens that do not require acid soils.  We recommend Plant-tone for these.
How to Use:
Feed in the Spring and late Fall at half the Spring rate. Anytime mid-October to November is a good time.
Never apply fertilizer to frozen soils.
Trees:
1 lb. per inch of trunk diameter. Triple the quantity for diameters 3 inches or larger.
Shrubs:
1 cup per foot of drip line diameter. Double the quantity if drip line diameter  is three feet or larger.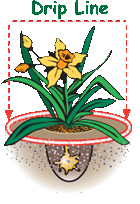 Beds:
Preparation of new bed: Mix 10 lbs. per 100 square feet and incorporate into the top four or five inches of soil. Feed established beds 5 lbs. per 100 square feet.
Potted Plants (Containers):
New Plants:

 

When preparing new soil for plants, mix 2 cups of Holly-tone per cubic foot of soil (1.5 tbsp. per quart.)
Established Plants:

 

Sprinkle 1 tsp. of Holly-tone for each 3″ of pot diameter into the soil along the outer edge of the pot.  Water thoroughly.
You can also check out this great instructional video from Garden Answer:



You can visit us to pick up your Holly-tone, or you can shop online 24/7 for pickup or local delivery! Click here to shop online.
---