All your favorite homegrown flowers & foliage!
Usually grown for attractive flowers & foliage, annuals are grown for one season and die with the onset of freezing weather. Gardening with annuals is a great way to play around with colors & textures when planted both in-ground and in containers! Because of their lifespan, it's a great way to experiment without a long-term commitment.
Types of Annuals
Cool-Season
These plants love the cooler temperatures of early spring & fall! Some can even survive freezing temps. Plant them in early spring for a pop of color after a long winter, or plant them in the fall to transition your garden displays to colder weather. Stephen's Favorites: primroses, pansies, ranunculus
Warm-Season
You'll see these arrive with the hot summer weather. These plants are used to tropical climates and don't do well in cooler temps, so we always recommend planting warm-season annuals once nighttime temps are consistently in the mid 50s. Stephen's Favorites: angelonia & lantana
Half-Hardy
These variable plants sit right in the middle of both cool- and warm-season annuals. They can tolerate cooler nights, but not freezing nights. Some can take warmer temperatures than others, so it's important to pay attention to the care of each individual plant in your garden! Stephen's Favorites: alyssum, stock, nemesia
Shop Bestselling Annuals Online
Our most popular homegrown annuals are available for online ordering! Pick them up in store or let us deliver them to you (delivery fees apply) To view our full selection of annuals, visit us in Sea Girt.
get your hands dirty
Designing by Season
In our opinion, one of the best parts about gardening is letting your creative eye run wild!
Annuals are a fantastic choice for containers and window boxes due to their size and versatility.
With so many colors, textures, and growth habits to choose from - the sky is the limit! First time planting or need some inspiration? Click here to read our blog post on the basics of designing.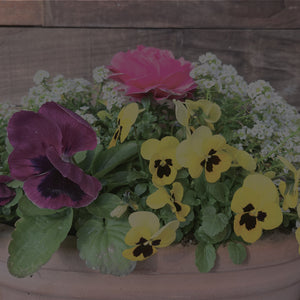 inquire today!
Custom Outdoor Designs
Have empty containers that you're looking to fill with a gorgeous display of color? Let our talented design team plant a custom container for you!
Inquire About Custom Potting
Order Online
Ready-Made Arrangements
Looking to send a gift to a loved one? Shop our selection of indoor & outdoor planters, lovingly planted by our talented design team.
Order Seasonal Designs Online
Visit Us
Our garden center is open year-round! Find everything you need from flowers & containers to gardening supplies and everything in between.